CTCU on the Go
Online Banking
ACCOUNT INFORMATION
Check real-time account activity, including balances & pending deposits
Transfer funds between your credit union accounts for instant access
Send money to family and friends (person-to-person payments.)
Easily transfer money to and from external accounts. You can also schedule recurring transfers this way.
Add account notifications based upon balances, deposits, and more.
Update personal contact information and change your account password.
TRANSACTIONS
View and filter transaction history by payments, deposits, transfers, dates, recipient, and more.
Print or download transaction history easily from any account.
Enroll and view eStatements.
DEBIT CARDS
View your CTCU Debit and ATM cards, as well as turn them on and off as needed from your online banking account or mobile app.
LOANS
View all loan payments due in a central area and make payments.
More access to loan details such as loan balance, original balance, interest rate, payments, payoff amount, and interest paid.
OTHER
Quickly locate over 30,000 surcharge-free ATMs across the United States.
Send a secure message to our CTCU member service team.
Mobile Banking
On the go? Go mobile! Our CTCU OnTheGo app is free and lets you access your accounts safely and conveniently – anytime, anywhere. Now available for any iPhone®, iPod Touch®, iPad®, or Android™ mobile device with internet access. Simply download the free app from the iTunes® App Store or Android market and enter your Online Banking credentials to:
All of the features included in Online Banking
Deposit checks using your mobile device through Remote Deposit Capture (LEARN HOW)
Customize log-in settings with Face ID or by Enabling a PIN
Quickly access account information and perform transactions on-the-go!
Download the App
FAQs
Our Online Banking Upgrade is a major update of the new online and mobile platforms we launched in 2020. With this upgrade, you will find it easier to transfer money, track spending, make and schedule loan payments, view account history, and much more. The first time you login to your account through your mobile app, you will need to update to the newest version through the app store or google play. You will also need to re-enroll.
Update your mobile app
---
HOW DO I ENROLL IN ONLINE BANKING?
You can enroll through our CTCU OnTheGo Mobile App (App Store / Google Play) or by clicking LOG IN at coopteachers.com. Then, click the ENROLL button and follow the instructions as prompted.
Some things to note:
You will need to have your Account/Member Number, Social Security Number, and Date of Birth.
Your username must be at least 6 characters, and contain at least one number, one letter, and no special characters.
Your password must be at least 8 characters, and contain at least one uppercase letter, one lowercase letter, one number, and one special character.
---
HOW DO I UPDATE MY PERSONAL INFORMATION?
You can update your personal information a number of different ways however, the easiest way is to use online banking or the mobile app.
Fields your can change are: email address, home phone number, work phone number, cell phone number, address 1, and address 2. You can also add a profile picture to your account which can increase security.
Updating Information through Online Banking:
Click on the Profile Image (this will be a placeholder image if you haven't uploaded your own.)
Click the field you want to edit and make necessary changes
Click the "Save Changes" button at the bottom of the screen
Updating Information on the Mobile App:
Open the menu. (Click "More" with the four dots in the lower right corner.)
Click the top portion of the screen where your name is displayed.
Select "Edit"
Make the necessary changes
Select "Save"
---
HOW DO I DEPOSIT A CHECK USING THE MOBILE APP?
You can save a trip to the credit union or ATM by using our CTCU OnTheGo Mobile App to deposit your checks! It's free to use and EASY.
You can watch the video or follow the steps below to learn how to deposit a check remotely. Make sure to hold onto your check until it clears your account and is no longer pending.
How to use Remote Deposit Capture:
Log in to your account using the Mobile App
Click the plus (+) sign at the bottom of the screen
Select "Remote Deposit"
Select "Deposit Check"
Choose the account you want to deposit the funds to
Read and select each of the guidelines, then click "Continue"
Take a picture of the front of the check as prompted
Read and select each of the guidelines, the click "Continue"

Make sure to endorse your check as required in the guidelines.

Take a picture of the back of the check as prompted
Enter the total amount of the check

Note the scan limit. If your check is above the set limit for depositing remotely, you'll need to deposit it in person.

Lastly, review your transaction and make sure everything is accurate and your photos are clear, not blurred or hard to see
Select "Confirm" to finish your deposit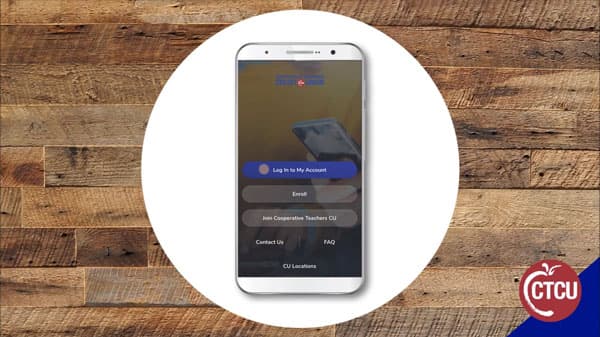 ---
HOW DO I SET UP OR CHANGE THE PIN ON MY DEBIT OR ATM CARD?
To activate your debit/ATM card, or to reset your PIN, call (800) 992-3808.
---
I'M LOCKED OUT OF MY ONLINE BANKING ACCOUNT. WHAT DO I DO?
Try resetting your password using online banking or our mobile app.
If you're having issues with our mobile app, try uninstalling it from your phone and reinstalling it. Then, try to sign in again.
Contact us for assistance with troubleshooting the issue. Call (903) 561-2603 or email us at service@coopteachers.com for assistance.
Looking for a surcharge-free ATM?
Finding a surcharge-free ATM couldn't be easier with our ATM Locator.
Find your nearest ATM