People Helping People
We received over 700 votes during our first ever BEST IN CLASS Teacher Award Contest!
Thank you to everyone who voted for their favorite teacher during Teacher Appreciation Week!
Best in Class - Teacher Award
2022 Winners:
First Place:

Clarissa Glesmann (Tyler High School)

Second Place:

Alexandrea Todd (Whitehouse High School)

Third Place:

Jessilyn Taylor (Dixie Elementary - Tyler ISD)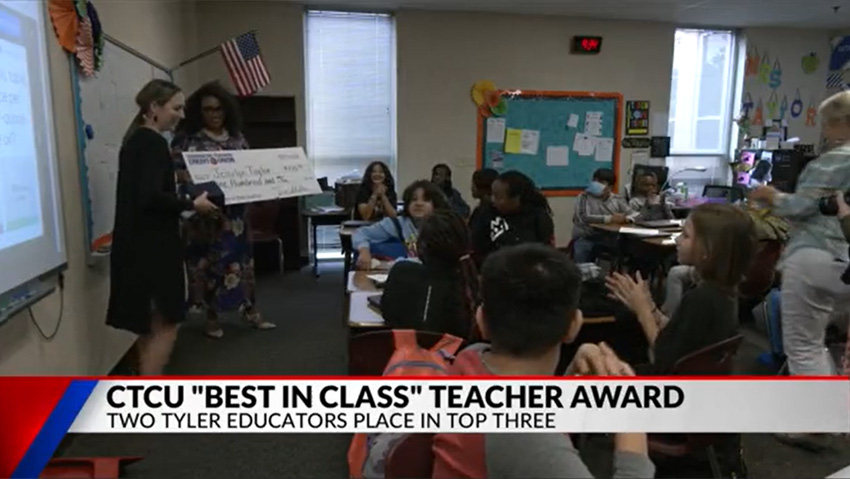 Here are some of our favorite quotes about these three teachers and why they were nominated:
Clarissa Glesmann
"Because she cares more about our inner personality than jus the class."

- Alfredo F.

"She is my favorite teacher because she make sure to prepare me for real world things so when I graduate I know what to do."

- Zataevia M.

"She is my favorite teacher because she makes us feel happy to come to class she open to be realistic as we become adults."

- Kaitlyn C.

"She has helped me stay on track all year and has helped me be more capable with my money and make better choices when it comes down to it "

- Caylee L.

"She's very sweet, and motivates you!"

- Celeste P.
Alexandrea Todd
"Because she gets us donuts and she's the best teacher ever!"

- Ximena

"Its my last class of the day, normally i would try to leave early any other school year but mrs todd makes my day better and makes the assignments bearable to do. she makes everything fun."

- Maci A.

"Mrs. Todd always goes above and beyond for all students, even if they aren't her own here at Whitehouse high. she never fails to brighten anyone's day she encounters. I feel lucky as a student to have the pleasure of her being my teacher this year, she helped me so much throughout the year and I don't know what I would do without her!"

- Norianna P.

"She really cares about every single one of her students, and she makes sure that everyone understands what she is teaching. Mrs. Todd is the best!"

- Jaylen S.

"She is so down to earth and truly cares about what happens with her students she really inspires them to do better. She is the best teacher ever."

- Stephanie T.
Jessilyn Taylor
"Ms. Taylor is teacher who is truly committed to making an impact in her students lives. It's amazing that she started the Dixie Gems mentorship for the young ladies."

- Fekesha L.

"Jessilyn pours into children day in and day out to ensure that she makes learning fun. She is creative with her lessons and the children respond to her greatly and are always eager to learn when she is around."

- DeJone M.

"Mrs. Taylor recognized that my son loved math and she challenged him. While making learning fun. He's currently an A student in honors math at Boulter MS. Mrs. Taylor Rocks!"

- Brianna R.

"Because she cares about the kids loves what she does and always a positive person, spiritually, kind, and God Fearing. She gives her all for the kids and tries to help them no matter what the situation. She truly is a special all around person."

- Ronald W.

"Mrs. Taylor is an awesome teacher that has a true passion for service and helping others."

- Jaxson Y.
Community Sponsorships
CTCU will consider sponsorships to civic, recreational or charity events, programs and publications located within our member service area. As a sponsor, CTCU expects to receive published advertising or public name recognition from the requesting organization or group.